ADVOCATE. MENTOR. CHANGEMAKER.
From Walpole Island First Nation, Nick Keller advocates for Indigenous issues on campus and mentors Indigenous youth through various campus programs.
After graduation, he plans to become a physician and healthcare activist, helping to address systemic discrimination in Canada's healthcare system.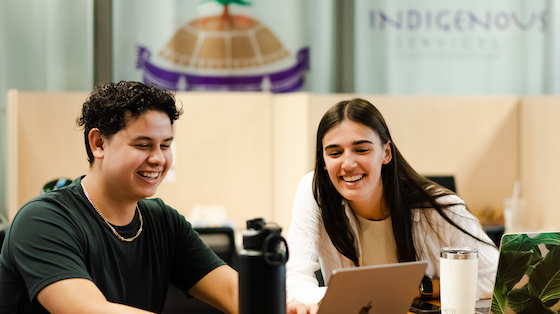 Nick is a youth mentor and Vice-President of Communications for the Indigenous Students' Association. His involvement in Indigenous support circles and advocacy for campus Indigenous issues exemplify impactful student mentorship opportunities on campus.
Nick also developed his leadership skills in public speaking opportunities, like the National Truth and Reconcilliation Flag Raising, Western Leader's Forum on Truth and Reconcilliation and the Global Health Equity Hub.

As a Western student, you'll have opportunities to take on the role of mentee and mentor, learning from leaders in their fields and creating positive impact in the community.
Through involvement in Indigenous support circles, mentorship activities and advocating for campus Indigenous issues, Nick is creating meaningful change within the Western community and beyond.

If you identify as Indigenous, Western offers many programs and opportunities to support you in your academic and personal journey.